Introducing "Building A Chicken Coop"…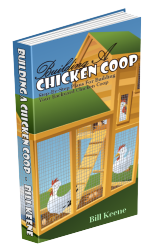 No

special

tools required –

 I designed these plans specifically for the total beginner. You won't require anything but the most simple of tools

Easy To Build Plans – Includes color step-by-step plans with scale diagrams and
dimensions that even a child could follow

Save Money  – On average our users save about 50% over buying their own coop. That adds up to hundreds (sometime thousands) of dollars

Print As Needed – My downloadable format allows you to print of as many copies as you need in case your lose or dirty a copy, or if you require multiple copies for those helping you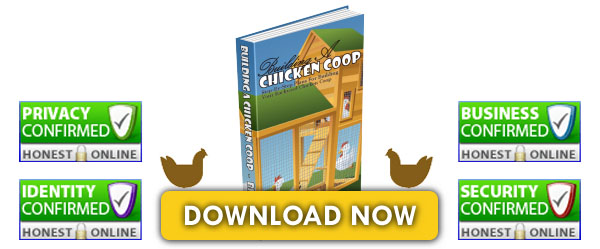 Here Is A Small Sample Of What You Will Learn…
Full color step-by-step scale plans
How to build a large premium chicken house that is easy to clean, automatically collects eggs and allows you to maintain up to 50 chickens

The

6

critical

things you

must

have before you even think about

starting to build a chicken coop

Simple tips on how to set-up your building site and select your materials that will make building quick and easy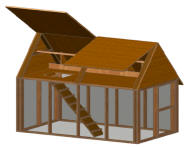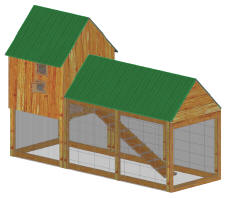 Double story chicken house and my personal favorite coop
How to build an extremely cheap all-in-one enclosed chicken coop for up to 4 large chickens

How to build a small portable chicken coop ark

(chicken tractor)

that makes cleaning simple and provides fertilizer

where you want

How to build a large double-story chicken coop with an easy to access

and clean

nesting area up top

and a spacious run down bottom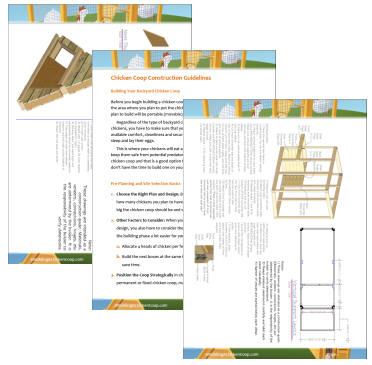 Detailed step-by-step instructions
Handy

expert

tips

on flooring, roofing, walls, nesting boxes, windows, doors and perches

How to easily extend

any

coop into a free-range style enclosure
How to pick the

correct

breed of chicken for your climate, space and

desired

egg production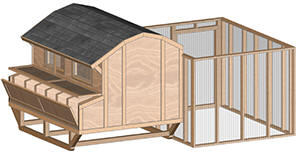 My portable barn style chicken house with optional run
How to easily breed chickens yourself and take care of the baby chicks so you have a self sustaining flock
How to design a coop that keeps your chickens warm in even the coldest of climates
The 9 daily, monthly and yearly chores you must perform to keep your chickens healthy, happy and laying eggs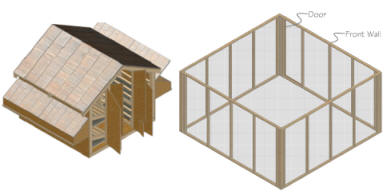 My large premium chicken coop with run
How to protect your coop from predators such as foxes, coyotes, cats, hawks and

much

more
The 8 foods that can be potentially harmful if you give them to your chickens
Learn what to do if your chicken gets sick and the 2 most common health problems and how to cure them
And much much more information

and plans
THE 60 Day ROCK-HARD FIRM GUARANTEED… Risk Free Trial!

If for some reason you feel that Building A Chicken Coop was not worth your investment, simply let me know within 60 days for a prompt 100% refund.
We are so confident that the plans you receive will be extremely helpful that we are will to let you try it absolutely RISK FREE for 60DAYS!! Our trusted 3rd party retailer ClickBank® automatically handles all refunds so you can be totally assured your investment is risk-free.


PLUS The Next 50 34 Customers Get An Exclusive Bonus Package…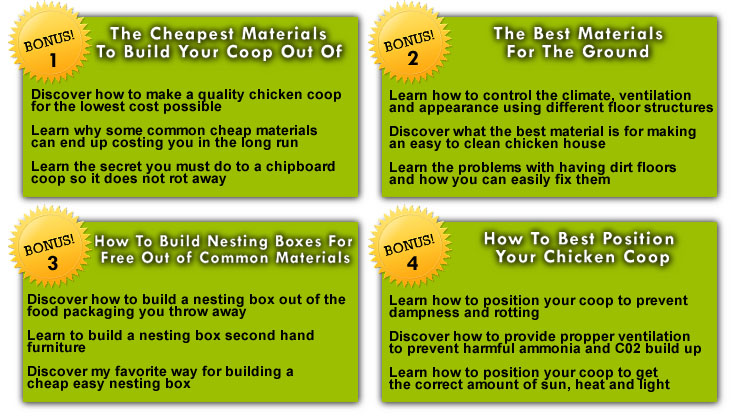 You Can Get Started Today With Our Instant Download Plans…
I wanted to make the purchasing process so easy that anyone can do it in 5 minutes. All you need to do is click the "Download Now" button below. You'll then be taken to ClickBanks® 100% secure order form. You do not need to sign up for any account, simply fill out your credit card or PayPal® details and follow the prompts.
As soon as you have made payment you will be directed to our exclusive members only page where you can instantly download your copy of Building A Chicken Coop and all your free bonuses.
It is that easy! So get started building you chicken coop today.
Wishing you many days of enjoyment with your new coop,


Building A Chicken Coop Author
---
Download Now. No Risk. Instant Access…
Remember, there is absolutely NO RISK to you. You have 60 days to decide if you want to keep my book and plans "Building A Chicken Coop". You will get INSTANT ACCESS to the book, plans and all the bonuses:
Building A Chicken Coop [PDF] –

$57 Value

Bonus #1: How To Best Position Your Chicken Coop [PDF] –

$9.95 Value

Bonus #2: How To Build Nesting Boxes Using Common Materials [PDF]-

$9.95 Value

Bonus #3: The Best Materials For The Ground in [PDF] –

$9.95 Value

Bonus #4: The Cheapest Materials To Build Your Coop Out Of [PDF] –

$9.95 Value

Bonus #5: Organic Gardening eBook Library [PDF] –

$80 Value
I could easily charge $176 for all of these items, but I have put together a special discounted package together for just $97 USD.
---
Limited Time Special…
You Get Everything For Just $29.95
Unfortunately I cannot guarantee you how long the above price will remain as it is a special introductory price. All payments are handled by Clickbank on a 100% Safe and Secure Server.